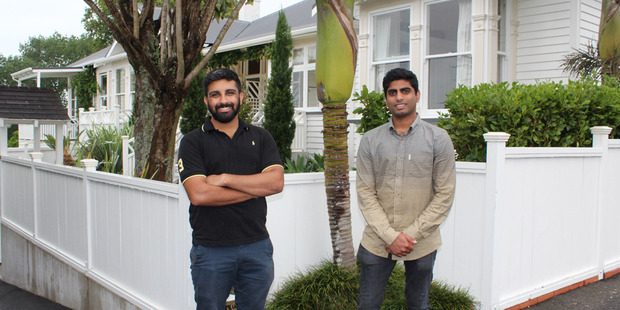 Co-founders Prashant Trivedy (L) and Santhan Kusam (R). Photo / Supplied
A new website that allows prospective buyers to compare mortgage rates across New Zealand's top banks is the brainchild of two young Aucklanders struggling to get into their own first home.
Mortgagehub.co.nz, launched today, lets users to pick how much they want to borrow along with their ideal repayment period and find the best available market rates for monthly repayments.
"Our goal was to build a one-stop-shop for people entering the housing market. Our platform gives them the clearest comparison of lending rates from the country's top providers, as well as all the other information they need to know about buying property," co-founder Prashant Trivedy, 23, said.
Trivedy's own website could have saved him thousands on his first house.
"I'm so lucky to have been in a position to buy a house, but I could have made it a lot easier on myself by not becoming indebted to the teeth," he said.
"I took the first mortgage rate offered by my bank but have since realised there were far better rates available and that's cost me thousands of dollars in potential savings.

"I don't want any other young person to make the same mistakes I did."
The other co-founder, Santham Kusam, had a similar experience. He said he had to fill out "what felt like a few trees' worth of paperwork" in order to get quotes from different banks.
The pair, both software engineers, are hoping to disrupt the industry and pull "the mortgage lending industry out of the dark ages and into the 21st Century."
The pair hope to facilitate $40 million of lending through their website each month within the next 12 months by connecting users to top mortgage brokers.
"It's ambitious, but this industry is just waiting for a technological shake-up, and we're confident we're it," Kusam said.

"Our ultimate goal is to disrupt the financial services landscape more generally by developing innovative digital solutions in other spaces. So much in the financial world feels inaccessible to Joe Bloggs because there's an old school protective attitude prevailing in the sector that shuts people out.

"We're here to give everyone the tools they need to make important financial decisions easily, and ultimately help save them money."