Can't Buy - Rents too High!
New blow for renters: Have prices in your area gone up?
12:08 PM Friday Mar 17, 2017
The median yearly rent for a typical house in New Zealand has hit $26,000.
Statistics from Trade Me's latest Property Rental Price Index showed weekly rent for a three to four bedroom house, which made up nearly half of the listings on the site, had reached $500, up more than 30 per cent in the last five years.
"Back in 2012, tenants were forking out $380 a week or just under $20,000 per annum for a place with three or four bedrooms," Head of Trade Me Property Nigel Jeffries said.
"Fast-forward to today's rental market and tenants are staring down the barrel at an additional $6,000 on their yearly bill."
In the last year alone, rent on a three to four bedroom house across the country had risen 4.7 per cent.
In Auckland this had jumped 2.7 per cent to $575 and in Wellington in the last year, this was up 10.1 per cent to a median weekly rent of $545.
The average yearly salary in 2015 was $47,486 according to Statistics New Zealand. A yearly minimum wage salary is $30,680.
Bay of Plenty led the increase with median weekly rent jumping from $340 to $465 in the five years, a $6,500 jump annually. Auckland was close behind with a jump of $5,460.
Information from Crockers and Barfoot & Thompson yesterday also showed rents were up.

Crockers' March research report showed rent in Auckland for a two bedroom property had risen from $466 a week to $472 a week in December and then to $474 a week in January.
The median rent in Northland hit a record high for February at $360 a week. Trade Me said Auckland's halo effect was pushing property and rental prices up with a lift of 12.5 per cent in the last 12 months, adding more than $2,000 to the annual cost of renting a property in the region.
Renting in Wellington was also a struggle Jeffries said, with a "significant imbalance" between low supply and heavy demand.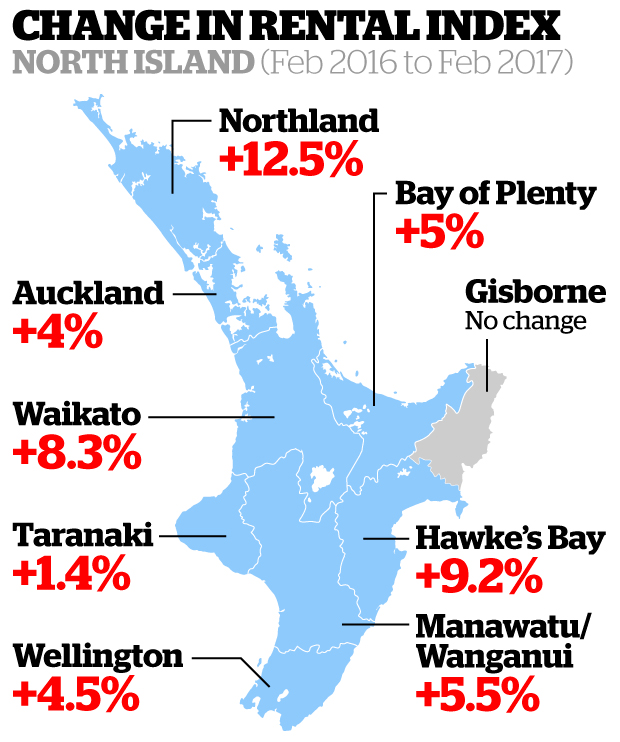 "Wellington tenants continue to face some tough challenges, and this isn't limited to smaller homes or student-focused accommodation either," Jeffries said.
More Property
Large houses with five or more bedrooms had the highest median weekly rents across the whole country.
"In February these houses had a median weekly rent of $975 a week - a staggering annual cost of over $50,000," Jeffries said.
"In the past year that cost has risen by 15 per cent, adding $6,500 for tenants looking to upsize."
In the last year, Christchurch was the only region where rent prices declined, falling 2.2 per cent on a three to four bedroom house to a median price of $395 a week.